Ommi at Index 2021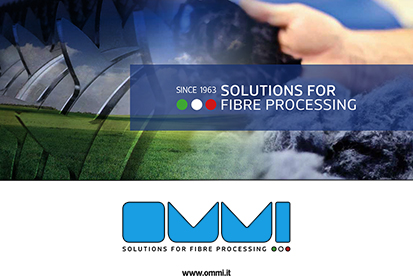 RECOLINE® innovative fibre R&R&R process from textile and post consumer waste
R&R&R: Recycling & Regeneration & Reuse the EU indications for a sustainable textile world too.
OMMI is following those indication with the launch of the RECOLINE® patented technology.
RECOLINE® is the range of machines based on OMMI's APM patent. It is a innovative technology for the regeneration of fibers , i.e. the recovery of fibers already used in the various cycles of the textile industry from post-consumption or production waste, whether they are fabrics, yarns or clothing or from nonwoven made out in the various spunlaced, needled, thermo-bonded tecnologies up to the recovery of fibers from the so-called block or thermo-bonded plates.
RECOLINE® is also the result of an evolution that starts from Prato, still the most important textile district in Europe, which has made the history of world textiles thanks to fabrics made with fibers achieved from used fabrics and clothing tearing processing from all over the planet but above all from North America, adopted and promoted around the world by the greatest designers, starting with wool and the recovery of clothing since the end of 1800 AD.
OMMI, based in Prato has been successfully producing machines and plants for the opening and blending of fibers for over 50 years and since 2000 with the incorporation of the "Italian regeneration" company of which he was a founding member, founding partner, is a manufacturer of fraying for high productions and more recently RECOLINE® technology thanks to a patent that overturns the meaning of post-consumer textile recycling: from low-cost textile waste for which large volumes and poor attention to raw material were needed, to added value for new productions also for technical use.
With RECOLINE® technology, the fiber already used in a textile process will NEVER become a waste but a raw material of HIGH VALUE. RECOLINE® technology is now successfully used by companies of international importance for the regeneration of noble fibers such as silk from fabrics, rather than commodity fibers such as cotton from denim to ensure a new production of ring yarn and new fabrics, as confirmed by a recent sale to one of the major European and MIDDLE EAST denim producers.
RECOLINE® is 4.0 technology and it may be customized according to customers' preferences and needs.
The OMMI range of RECOLINE® machines and plants includes:
RECOLINE-T suiteble for conventional textile fibers processing
RECOLINE-S suitable for high-tech fibrous materials such as high modulus, carbon, etc., specially designed for the various needs
RECOLINE-MAX for high output processing of conventional pre-cutted fabrics or nonwovens